Community Manager, Game Developer, Streamer
Hey! I'm VanguardFerret (aka Sarah), and I'm the Community Manager at the indie microstudio Centrifuge, where we make games like Interference (finalist in Best Casual/Social, Most Original and Game of the Year, TIGA Awards 2016), Rogue Drones, and Zeitgeist - a live, interactive quiz show on Twitch.
I look after all the ways that our community connects with us (and each other!) like the Interfererence forums, our studio's Discord server, and I host "Interference & Chill" - our interactive drawing stream on Twitch. I've also given talks at EGX and EGX Rezzed, sharing advice on community management and interactive streaming.
Portfolio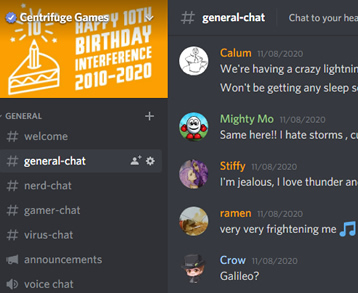 Discord management
I established our studio's Discord server, giving our players another place to connect with the dev team and each other, and was also responsible for us being approved for Discord's Verified Server programme.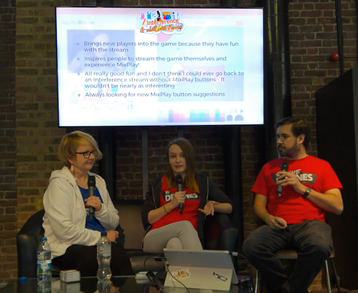 Panel: Adventures in interactive streaming
At EGX Rezzed I co-hosted a panel, where I discussed how we used my interactive Interference & Chill stream to recruit new players into the game, and how it led to the company changing to an "interactivity first" plan for future games.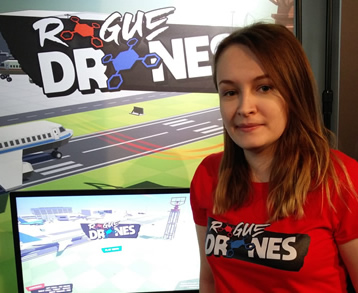 Stand management: Rogue Drones
I ran our stand at EGX Rezzed, which gave me the opportunity to engage with players directly, bring them in to our community, and gather useful feedback on the prototype of the game.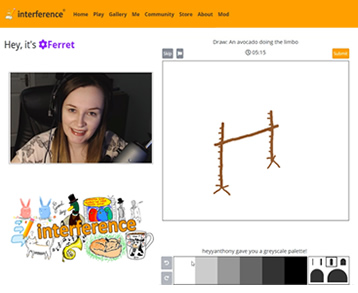 Streaming: Interference & Chill
I encouraged the company to start a streaming channel, where I host a weekly drawing stream where viewers are able to interact with the game, for example changing the palette or disabling undo. This was our first adventure in streaming, which lead to a new direction for the company as we began to focus on interactive stream development.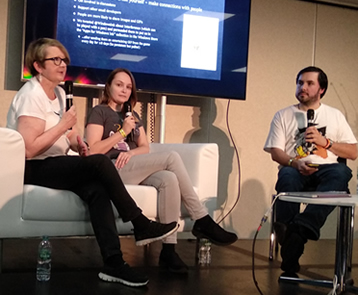 Panel: Lessons in Gamedev
At EGX we delivered a panel discussing our gamedev journey, and I shared advice and tips for community management that I've learnt along the way, along with taking questions from new teams just starting out on their adventures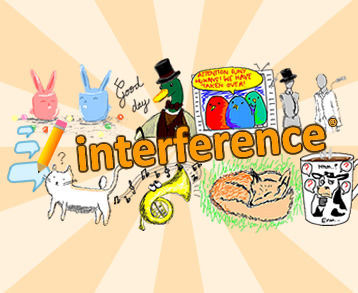 Community building - Interference
One of my first accomplishments at Centrifuge was to increase player usage of the Interference forums, by encouraging them to take part in forum games and engage in weekly discussion topics